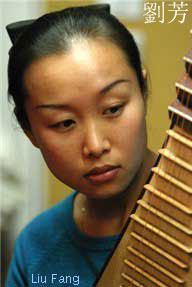 Photo: Philip Ryalls.

"At the beginning of the show, we took advantage of a brief visit to London by Liu Fang, the Chinese musician now based in Montreal, who has the final track on the Rough Guide to the Music of China. Playing the pipa, a four stringed lute, she started quietly, with each note ringing out in a manner that sounds uniquely Chinese; but as the tune ebbed and flowed, the occasional crescendos of fast picking were reminiscent of Appalachian mountain style banjo. Masterful, graceful and riveting, Liu will surely return for UK concerts next year, hopefully including WOMAD Reading." -host: Charlie Gillett



Source: "Robert Cray plus Liu Fang live" - http://www.charliegillett.com/playlist.php?date=8November03




"There was just one musician, but ten talented fingers". - Sir Ian McKellen, November 7, 2003, BBC World Service HIV/AIDS concert, Mermaid Theatre, London, UK.